As the launch of the first phase ("phase 0") of Ethereum 2.0 (ETH2) has neared, some have expressed concerns about the centralization of staking nodes or validators.
The core aspect of the upgrade is the introduction of staking to the blockchain, whereas holders can put up 32 ETH to validate blocks, thus earning rewards of 5-12 percent per annum. Due to concerns about the Ethereum network's electricity usage and the ability to achieve consensus, staking will eventually replace mining.
An issue many have identified in this upgrade, though, is the potential centralization of ETH2 validators.
At current, many holders lack their technical expertise to launch their own staking node.  Furthermore, the yields offered on Ethereum deposits via decentralized finance are currently much higher than the proposed yields for ETH2, which could further centralize ETH2.
Yet according to Su Zhu, the CIO and CEO of Three Arrows Capital, recent on-chain and fundamental trends indicate centralization is not too much of a concern.
ETH is being withdrawn off exchanges en-masse: Santiment
Earlier this week, blockchain analytics firm Santiment reported that a vast amount of ETH is being withdrawn from exchanges as the cryptocurrency moves higher, suggesting accumulation:
"$ETH's total coin supply held off exchanges continues to rise, and is +3.63% since bottoming on March 24, shortly after Black Thursday. Meanwhile, the top 100 non-exchange addresses have increased bags by +8.2% in just 35 days. Both are bullish signals."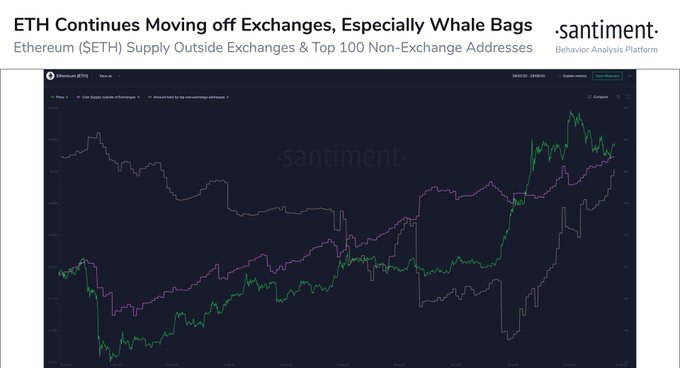 Bullish for Ethereum staking decentralization
According to Su Zhu, the fact that so much ETH is being withdrawn off exchanges indicates that users are becoming more technically proficient, meaning there should be an increase in staking once ETH2 is rolled out:
"The fact that shittons of $ETH is getting withdrawn from exchanges and being used onchain in DeFi raises average user proficiency levels immensely, which is bullish for the decentralization of staking. The idea that everyone will stake on exchanges bc ease is stale."

On the concern of high returns drawing capital to DeFi protocols as opposed to staking, which secures the Ethereum blockchain itself, the investor also said that he isn't concerned.
He cited a sentiment shared by a pseudonymous Ethereum commentator, who noted that the fact that there is so much demand for ETH in the DeFi ecosystem "is actually VERY bullish for" staking:
"The fact there's so much demand for the productive use of ETH is actually VERY bullish for PoS. They're more likely to keep their ETH [staked] to earn more of it — all with a risk profile dramatically different to use in DeFi apps."
The post This on-chain trend indicates that Ethereum 2.0 will be extremely decentralized appeared first on CryptoSlate.